Djurgården in English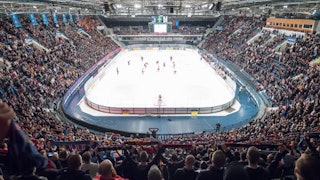 Tickets
Tickets are bought at difhockey.ebiljett.nu where you find links to the respective category. Note that CHL tickets may be sold at separate links. There will be information about this on the website. If you have any queries about tickets, please contact us at [email protected].
Find the arena
Djurgården plays most of its game in Hovet, an old arena built in the 50's with a very special atmosphere. Some games are however played in the newer and larger Ericsson Globe, built in 1989. The arenas are adjacent to each other and both easy to find.
From Stockholm Central Station you take the metro to station Globen. Follow the signage and you will be at the arena within a few minutes.
Contact us
All of our office staff and a vast majority of the venue staff speak English so please do not hesitate to contact us. For ticket inquires, e-mail [email protected]. You may also call our office at +46-8-600 81 00.
Djurgården history
Djurgården was founded in 1891 and has since been the most successful club in Sweden. The club has active sections within several sports, among them are ice hockey, football (soccer and American), boxing, fencing and wrestling.
The ice hockey team was started in 1922 when ice hockey found its way to Sweden. The first title was won in 1926 and during the 50's and 60's the team won six consecutive Championships from 1958 to 1963. This is a record in Swedish ice hockey.
The last time Djurgården was crowned Swedish Champions was in 2001.
Autographs
Write a letter and mail in a C5 envelope to:
Djurgården Hockey
Autografer
Box 2
121 25 Stockholm-Globen
Attach an envelope with prepaid Swedish postage and include your full name and address. It can take several months before you receive an answer. In between seasons it can take longer. Djurgården Hockey is not responsible for any sent material.
Maximum request of two players' autographs and only for players currently in the club.
During the season we are holding several meet and greet events where you can get autographs from the players. Look out on the website for dates (all information will however be in Swedish).
Swedish glossary
Ice hockey = Ishockey
Metro/Subway = Tunnelbana
Ticket = Biljett
Seated sections = Sittplats
Standing sections = Ståplats or Klack (Klack = Section only for singing fans)
Goal = Mål
Icing = Icing
Offside = Offside
Goalkeeper = Målvakt
Defenseman = Back
Forward = Forward
Penalty = Utvisning
Penalty shot = Straff
Win = Vinst
Loss = Förlust
Overtime = Förlängning
Skates = Skridskor
Stick(s) = Klubba (klubbor)
Glove(s) = Handske (handskar)